Jessica Charron
Tenant Support Advocate
Jessica Charron is a registered Social Worker and is currently studying to obtain her Masters in Social Work.
Jessica's role as Coordinator of Tenant Advocacy & Community Support consists of advocating and providing supports for the tenants of Windsor Family Homes. This kind of support assists tenants to maintain successful tenancies with our agency.
Jessica also provides support to the community through offering assistance to walk in clients, homeless individuals, or those utilizing the food bank who may be looking for support in the community. She facilitates a program open to all youth in the community, Nourishing Young Minds, to educate youth on the importance of both physical and mental health.
Jessica aspires to continue the growth of the support programs currently taking place at WFHCP and help make a positive impact on the tenants and also the community.
Samantha Chesney
Director of Finance
Samantha Chesney graduated from the Executive Administrative program at the Toronto School of Business. After graduation she accepted a position as a receptionist/bookkeeper with an accounting firm, where she worked for the next ten years.
In 2007, Samantha moved to Windsor and started her career at Windsor Family Homes as the Finance manager, later becoming the director of finance.
Samantha is passionate about serving the community and hopes the future for WFHCP will see more properties added to the portfolio. Her hope is to one day see an end to homelessness in Windsor.
Danielle Couture-Atogwe
Coordinator of Programs
After a lengthy career in the hair industry and running her own successful business, Danielle decided to switch gears and follow her passion of helping the community. Having once utilized the services of a food bank, Danielle has a strong understanding of the poverty crisis Windsor faces. She is motivated to work alongside the amazing staff and volunteers providing dignified and empathetic front-line support by giving food to those in need.
As a mom of two young children, Danielle is determined to set an example of compassion and love -for all people- to her children and demonstrate that one person (along with the incredible team at WFHCP) can truly make a difference in people's lives.
Danielle is excited to bring her personality and service-industry experience to the Kids First food bank and play an integral role in the day-to-day operations, recruiting donations and supporting the volunteers.
All the best,
Danielle Couture-Atogwe
Sonny LaChapelle
Manager of Administration & Community Development
When people experience some form of trauma in their lives, it is not uncommon for them to become disheartened and demoralized at their situation and the world itself. Trauma often leads to difficulties in dealing with everyday tasks and situations, and in turn results in problems with living situations, placing many at risk of homelessness. The families and individuals that I serve come from diverse backgrounds, and all have unique needs. The commonality in all, is their need for kindness, generosity and a listening ear.
I am aware that different strategies need to be employed when administering assistance to individuals and families in our community and I aim to engage others with a caring heart and distinctive perspective while striving to lessen the burdens that others carry.
My background is in accounting, although my younger years had me in the gaming industry and customer service. I seem to have come full circle as my role here at WFHCP has expanded to community development and the like.
Angela Yakonich
Executive Director
Angela Yakonich is the Executive Director at Windsor Family Homes and Community Partnerships, a social housing agency providing affordable housing and support programs to more than 120 families in Windsor, ON.
Angela holds a vital role, representing WFHCP, as an experienced affiliate of like-minded community members in the crusade to combat poverty, promote justice and end homelessness. In her role she helps to create more affordable housing, advocates for supports in housing to aid in tenants maintaining successful tenancies and to decrease the amount of people who are food insecure in our community.
Angela graduated with Honours from the University of Windsor with a Bachelor of Arts in Family and Social Relations. Coupled with a diploma from Fanshawe College in Hospitality and Event Management, Angela's education offers a broad spectrum of expertise in community relations. Since graduating, she has gained extensive experience in the non-profit sector, continually upgrading her training, taking on leadership roles and sitting on various committees and boards. Her roles have included: Provincial Manager for Life With a Baby, a program of Healthy Start Healthy Future; Volunteer Programs Coordinator with the Welcome Centre Shelter for Women and Families; Program Coordinator at Blue House, which was a partnered program of AIDS Committee of Windsor, Welcome Centre and Legal Assistance of Windsor; Community Developer for the Homeless Coalition of Windsor Essex County as well as the Community Coordinator for HIFIS, a database developed and distributed by Employment and Social Development Canada. Angela has co-led two Point in Time counts, in partnership with the City of Windsor in her role as Community Developer.
Angela's passion for ending homelessness did not end when her role changed from homelessness to housing. With extensive training with OrgCode, Community Solutions and the Canadian Alliance to End Homelessness, Angela has carried forth her values into her role in housing by working collaboratively with community partners as well as the City of Windsor in housing people from the By Names Prioritized List. Angela holds a position with the Built for Zero Canada team developed by the Canadian Alliance to End Homelessness and sits on The Housing and Homelessness Advisory Committee with the City of Windsor. Angela has developed a passion for using "evidence based best practices," when tackling strategies to end homelessness and the creation of affordable housing. She partners these practices with her education, experiences and training as an empathetic crusader for social justice.
Angela believes community engagement and collaboration is key in tackling social issues. She has used this belief to successfully implement new programs since her start at WFHCP in 2018. She strongly believes that a healthy body plus a healthy mind equals a healthy life. She has added a physical fitness component to the nutritional goals of the Kids First Food Bank with the addition of the Kids First Fitness Centre which was made possible through community partnerships.
Angela is proud to be a part of such an important agency, making a difference everyday in the lives of hundreds of people.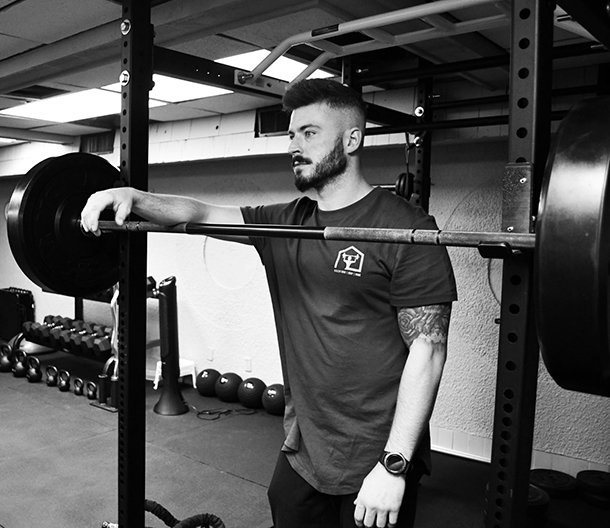 Brad Bellavance
Coordinator of Fitness
As a competitive athlete growing up, Brad has always had an interest in health and fitness. Brad's journey as a fitness professional began at the age of 18, when he enrolled in the Health and Fitness Promotion Program at Niagara College. In addition to his college diploma and personal training certification, Brad believes in continuing his education, and evolving as the health and fitness industry changes. He believes in staying current with new methodologies and techniques and has accumulated several certifications along the way. Fascinated by how mobility issues can affect a person's everyday life, his training style focuses on increasing mobility through different methods, to provide clients with the most effective training program. Brad keeps workouts fun, challenging and engaging while educating clients in how to make sustainable lifestyle changes. He recognizes that no two clients are alike and ensures that workouts are individual to each person's goals and fitness levels. His attentive training style has earned him the bronze award in the 2020 Windsor Community Votes Personal Trainer category.
In his 8 years as a Personal Trainer Brad has worked alongside and learned from some of the best personal trainers at local gyms like True Fitness Windsor and Brady's Fitness. He has worked with a wide variety of competitive athletes and clients of all ages and athletic abilities; Notably being invited to accompany a client to Sydney, Australia where she represented Team Canada at the 2018 Invictus Games. Brad also specializes in weight management coaching and has had clients reach milestones of 150+ pound losses by incorporating not only nutrition and exercise but lifestyle change through the development of healthy habits.
Brad has a great understanding of the link between mental and physical health. He has been featured on CTV, am800 CKLW and in the Windsor Star highlighting the importance of physical activity, proper nutrition, how they contribute to mental well-being and how a holistic approach can often decrease symptoms of mental health challenges.
Brad's decision to move forward in his career in non-traditional gym setting, has been fueled by a desire to give back to the community; By being part of the development a fitness centre using a social enterprise modality, he is able to combine is passion for physical and mental health – while supporting much needed programs for those most in need.
Brad's Certifications include:
Level 1 Certified Fascial Stretch Therapist
Instrument Assisted Soft Tissue Mobilization (IASTM) technique
Functional Cupping
Darby Systems Level 1
Twist Strength and Conditioning Coaching
TRX Certified Trainer
Can Fit Pro
Precision Nutrition Version 3